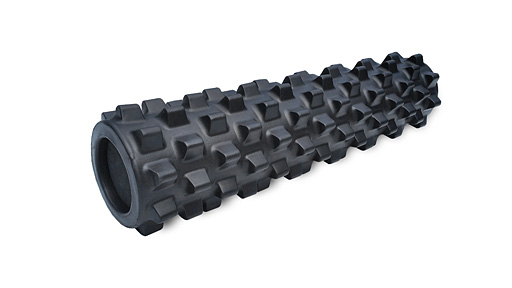 Mobility & Strength
RUMBLEROLLER - MID SIZE FOAM ROLLER
inkl. MwSt.
This is the Original RumbleRoller in Mid Size!
5.5" dia x 22" long (140 x 550 mm)
Long enough to roll your full back or both legs at once, but less costly and easier to store than the Full-size.
Available in two options:
Normal density - Blue
Extra-Firm density - Black (36% firmer than original)
Physical therapists, trainers, and athletes use foam rollers to relieve muscular pain and tightness (often called "adhesions", "knots", or "trigger points"). But conventional foam rollers have smooth surfaces that further compress soft tissue. Rolling on top of them improves blood flow and tissue flexibility, but the effect is limited and relatively superficial, unless you spend a lot of time rolling.

The RumbleRoller Manipulates Soft Tissue - Like a Massage Therapist!
The surface of the RumbleRoller contains specially designed bumps that are firm, but flexible, much like the thumbs of a massage therapist.
 
Der Rumble Roller ist ein Massageroller und dehnt sanft weiches Gewebe, löst Triggerpunkte und hilft bei der Wiederherstellung von Flexibilität.
Stellt die Flexibilität wieder her und lindert häufige Muskelschmerze
Macht die Tiefengewebe-Massage angenehm und ökonomisch
In 2 Härte-Ausführungen
Blau: Original Festigkeit
Schwarz: Extrafest (36% fester als das Original)

Rumble Roller - Dieser Massageroller ist wie ein Masseur!
Der Rumble Roller ist ein Tiefengewebe-Massageroller und ideal zur Behandlung von Triggerpunkten und Verspannungen. Er hat einen Kern aus sehr belastbarem, hochdichten EVA-Schaumstoff. Auf der Oberfläche des Foam Roller sind spezielle Noppen, die zum Einen fest sind, aber dennoch genug Flexibilität bei den Übungen bieten. So werden entsprechende Gewebepartien sanft gedehnt und optimal durchgeknetet.